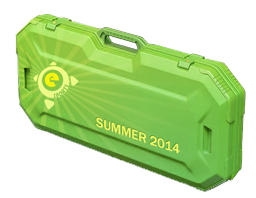 eSports 2014 Summer Case
A portion of the proceeds from the key used to unlock this will help support CS:GO professional tournament prize pools.
Container Series #19
Contains one of the following:
SSG 08 | Dark Water
MAC-10 | Ultraviolet
USP-S | Blood Tiger
CZ75-Auto | Hexane
Negev | Bratatat
XM1014 | Red Python
PP-Bizon | Blue Streak
P90 | Virus
MP7 | Ocean Foam
Glock-18 | Steel Disruption
Desert Eagle | Crimson Web
AUG | Bengal Tiger
Nova | Bloomstick
AWP | Corticera
P2000 | Corticera
M4A4 | Bullet Rain
AK-47 | Jaguar
or an Exceedingly Rare Special Item!
49 for sale starting at $0.21
| Price | Pcs |
| --- | --- |
| $0.21 | 2 |
| $0.24 | 12 |
| $0.77 | 1 |
| $1.24 | 1 |
| $3.22 | 16 |
| $7.62 | 17 |
IGXE Transaction Price
Month
Privacy Policy

	Igxe attached great importance to your privacy. So we have developed a privacy policy that covers how to collect, use, disclose, transfer, and store your information. Please take some time to familiarize yourself with our customer's privacy practices. If you have any questions, please contact us.

Collection and use of personal information

	Personal information can be used to identify or link to a particular person's data.
	Any time you contact Igxe or Igxe Associate Company, may require you to provide personal information. Igxe and its Associate Company can share these personal information, and use this information in accordance with this privacy policy. Igxe and its Associate Company can also combine this information with other information to provide and improve our products, services, content and advertising. You do not have to provide personal information we require, but in many cases, if you choose not to offer, we will not be able to provide you with our product or service, also cannot return should you encounter any problems.
	The following is the type of personal information that Igxe may collect and some examples of how we use this information.

What personal information we collect

    When you create ID Igxe, to buy the product, sign up for Igxe retail activity in, contact us or participate in online surveys, we may collect all kinds of information, including your name, mailing address, telephone number, e-mail address, contact preferences and credit card information.
	When you use Igxe products with family and friends to share content, send coupons and products, or invite others service Igxe, Igxe may collect your provide information related to the person, such as name, mailing address, e-mail address, and phone number. Igxe will use this information to meet your requirements, to provide related products or services, or to achieve the purpose of anti fraud.

How do we use your personal information

    Using the personal information we collect, we can inform you of the latest product release and activity of Igxe. If you don't want to be included in our mailing list, you can always opt out by updating the preference settings. We will also use personal information for the following purposes: to help us create, develop, operate, provide and improve our products, services, content and advertising, as well as anti lost and fraud purposes.
	We may use your personal information (such as date of birth) to verify identity, assist in identifying the user, and determine the appropriate service. For example, we may use the date of birth to determine the age of the ID Igxe account holder. Sometimes, we may use personal information to send important notifications, such as the purchase of relevant information, as well as the terms, conditions and policy changes. Because this information is very important to your communication with Igxe, you can't refuse to accept this kind of information. We will also use personal information for the purpose of auditing, data analysis and research, to improve Igxe's products, services, and communication with customers.

Collection and use of non personal information

    We will also collect data that is not directly related to any particular individual. We can collect, use, transfer and disclose non personal information for any purpose. The following is a collection of non personal information we may collect and some examples of how we use the information.
	We will collect such as occupation, language, zip code, area code, the unique device identifier, referral URL, location and users in the use Igxe the time zone information so that we can better understand customer behavior and improve our products, services and advertising.
	If you participate in a lottery, contest or similar promotional activities, we will provide you with information for the management of such activities.
	We will collect information about activities on our website, as well as information obtained from our other products and services. We will gather this information to help us to provide more useful information to our customers, to understand what customers are most interested in our website, products and services. As far as this privacy policy is concerned, the summary data is regarded as a non personal information.
	We may collect and store detailed information about how you use our services, including search queries. Such information may be used to improve the results of our services and to make it more relevant. In addition to the few cases, we need to ensure that the quality of the services provided through the Internet, such information will not involve your IP address.
	If we use non personal information and personal information to use, in conjunction with the use of the period, such information will be regarded as personal information.

Cookie and other technologies

    Igxe's Web sites, online services, interactive applications, email and advertising may use "Cookie" and other technologies, such as pixel tags and web sites. These technologies help us to better understand the user's behavior, tell us what part of the people to browse our website, to measure the effect of advertising and web search and to improve. We will collect information from Cookie and other technologies as non personal information. However, if the local law regards the Internet agreement (IP) address or similar identification tags as personal information, we shall also see these identification tags as personal information. Similarly, in terms of this privacy policy, in the case of the use of non personal information and personal information, we will combine the use of information as personal information.
	Igxe and its partners in mobile advertising services using Cookie and other technologies to control the number of times you see a particular ad, send you interested in advertising, and measure the effectiveness of advertising activities. If you do not want to receive this kind of advertising on your mobile device, you can choose to reject csgo.igxe.com.cn by accessing the following links on your device.If you choose to refuse, you will continue to receive the same number of mobile advertising, but its relevance may be reduced, because these ads will no longer be based on your interest in. You will still see the content of the web page or application software or in accordance with other non personal information on advertising.
	Refused to apply only to Igxe advertising services, will not affect the interest based advertising services from other advertising alliances. However, if you on the mobile device to choose the "limit ad tracking, in accordance with the provisions of the contract, third party app will cannot use" advertisement identifier "(a non personal equipment identifier) to to you running with advertisements .
	When you use our website, online services and applications, Igxe and our partners will also use Cookie and other techniques to record personal information. In this case, our goal is to make you more convenient and more personalized experience Igxe products and services. For example, if we know your name, we can welcome you to your next visit to the Igxe online store. If we know that your country / region, and you use the language (if you are educators, know your school) will help us build for you, more useful to you shopping experience. If we know someone using your computer or device to buy a product or use some kind of service, will help us to put more in line with your interest in advertising and e-mail. If we know your contact, hardware identifier and on your computer or device information, we will be able to better personalize your operating system, setting your service, and provide better customer service to you.
	If you want to disable Cookie, and are using the web browser, go to preferences, and then enter the privacy panel and disable Cookie. On your mobile device, click "Settings", then choose "privacy", then enter the Cookie section. For other browsers, please contact your vendor to learn how to disable Cookie. However, please note that after disabling Cookie, you will not be able to use certain features of the Igxe website.
	Like most Internet services, we automatically collect some information and store it in a log file. This kind of information including Internet Protocol (IP) address, browser type and language, Internet service providers (ISPs), referral / exit website and application software and operating system, date / time stamp and click stream data.
	We use this information to understand and analyze trends, manage the site, understand user behavior on the web, improve our products and services, and gather information about the overall audience characteristics of the user base. Igxe can use this information for our marketing and advertising services.
	In some of our e-mail, we will use the link to the content of the Igxe web site click to arrive at the url". When the customer clicks on one of them to arrive at the site, before reaching the target page on our website, will be through a separate network server. We follow this click to arrive at the data to help us determine the customer's interest in a particular subject and measure the effect of our communication with the customer. If you don't like the way of tracking, please don't click on the text or picture link in the email.
	Pixel tags enable us to send e-mail messages in the form of a client, and to inform us whether or not we are open. We can use this information to reduce or exempt the email sent to the customer.

Disclosure to the third party

    Sometimes Igxe will provide products and services to the Igxe to provide products and services or to help Igxe to provide some personal information to the customer's strategic partner in marketing. Igxe will share personal information with third parties for the purpose of providing or improving our products, services, and advertising, and not sharing personal information with third parties for marketing purposes of the third party.

Service provider

    Igxe and provide information processing, to provide credit and fulfill customer orders, to your delivery of products, management and enhance customer data, providing customer service, evaluation of your interest in our products and services and to carry out a customer or satisfaction survey services companies to share personal information. These companies are obliged to protect your information, and may be located at any location where Igxe is engaged in business activities.

other

    Igxe may be required to disclose your personal information in accordance with the requirements of the law, legal procedures, litigation and / or public institutions and government departments within and outside the territory. If we are to determine the state security, law enforcement, or other matters of public importance, the disclosure is necessary or appropriate, and we may also disclose information about you.
	If we are determined to carry out our terms and conditions or to protect our business or users, disclosure is reasonable and necessary, we may also disclose information about you. In addition, if there is a reorganization, merger or sale, then we can collect all personal information we collected to the relevant third party.

Protection of personal information

    Igxe pays great attention to the security of your personal information. Igxe online services will use the transport layer security protocol (TLS) encryption technology, in the transmission process to protect your personal information. When you store your personal data in Igxe, we use a computer system with limited access rights, which are deployed to protect the facilities through physical security measures. The iCloud data is stored in encrypted form, and so is the case when we use the third party store.
	When you use some Igxe products, software, service or application or in a Igxe forum, chat room or social networking services post, share your personal information and content will read by other users, they may read, collect or use your personal information. You should be responsible for the personal information that you have decided to share or submit in the above situation. For example, if you post your name and email address on the forum, the information is public. Please be more careful when using this kind of function.
	If you or any other use of the family sharing plan login to the third party equipment in your "family" group sharing any information (including calendar, location, photos, and iTunes purchases) may be downloaded to the third party equipment, and guide leakage caused by any such information sharing.

Integrity and retention of personal information

    Igxe provides some convenient ways to ensure that your personal information is accurate, complete and updated in time. We will retain your personal information during the period required for the purposes of this privacy policy, unless required by law or allowed to retain this information for a longer period of time.

Access personal information

    You can access the skin.igxe.com login to your account and help us make sure that your contact information and preferences are set accurately, completely and updated in time. For we keep the other personal information, we will you provide for access to any purpose, including a requirement that we in inaccurate data corrected or removed in accordance with the law or retains such data for legitimate business purposes Igxe has no right to be. We have the right to refuse to deal with the request of no substantive meaning / entanglement, the request of the damage to the privacy of others, the request of the extreme, and the request of the local law to give access to the information. Request for access, correction or deletion of information may be filed by the regional privacy contact.

Children

    For children using Igxe products and services, we understand the importance of taking additional preventive measures to protect their privacy and security. As a result, we do not intend to collect, use or disclose personal information from children under the age of (or similar to the minimum age) under the age of 13, unless the consent form is received. If we find we collected age less than 13 years of age (or the relevant jurisdiction provisions similar minimum age) children's personal information and did not receive prior to verify the parents consent, we will take measures as soon as possible to delete such information.

Location service

    Third party websites and services
	Igxe's Web site, products, applications and services may contain links to third party websites, products and services. Our products and services may also use or provide products or services from third parties, for example, third party Steampowered. Third party collection, which may contain steamID data or contact information, etc., shall comply with the provisions of the third party on the right to privacy. We hope you can understand the privacy of these third parties.
	International user
	As described in this privacy policy, all information you provide may be transmitted or accessed by entities scattered throughout the world. For the collection, use and retention of personal information in the European Economic Zone and the Swiss territory, Igxe complies with the "safe harbor" framework developed by the US Department of Commerce. Please make a detailed understanding of the US Department of Commerce safe harbor plan.
	Igxe strictly comply with the Asia Pacific Economic Cooperation Organization (APEC) cross-border privacy rules system. CBPR APEC system provides an overall framework for each organization, which aims to protect the privacy of individual information transmission among APEC member economies.
	The company's commitment to your privacy
	To ensure the security of your personal information, we communicated to all Igxe employees the company's privacy and security guidelines, and in the company's internal strict implementation of privacy protection measures.
	Privacy issues
	If you have any questions or questions about Igxe's privacy policy or data processing, or if you want to make a complaint about a possible violation of local privacy laws, please contact us. You can always call the country / region where the relevant Igxe support phone number, contact us. All such communication content should be investigated, we will reply as soon as possible under the appropriate circumstances. If you are not satisfied with the reply received, you can transfer the complaint to the relevant regulatory agencies in the jurisdiction of the judiciary. If you ask us, we will try to provide you with information about the way in which you can apply to your situation.
	Igxe can be updated at any time to its privacy policy. If we make significant changes to our privacy policy, we will publish a circular and updated privacy policy on the company's Web site.
	DPU limited (Register address: FLAT/RM 704 7/F BRIGHT WAY TOWER 33 MONG KOK ROAD,MONG KOK KL,HK) trading under the name of Ka.IGXE, which is part of the IGXE Group.

TERMS AND CONDITIONS OF USE

    This document, together with the FAQ and any other policies or guidelines posted on https://skins.igxe.com (the "Agreement") is a contract between you ("you") and IGXE Internet Game Exchange Hongkong Limited, a Hongkong Corporation, having its principal place of business at Rm1601 Chow Tai Fook CTR, No.580A-F Nathan Road, Mongkok, Kowloon, HongKong ("IGXE") concerning the conditions associated with your use of the website skins.igxe.com and of the services offered within such website for the sale of virtual goods for use within computer games (the "Service"). Please read all of the following terms and conditions carefully before using the Service. By using or accessing the Service, you agree to all the terms and conditions stated in this Agreement. If, at any time, you do not or cannot agree to the terms of this Agreement, you must stop accessing or using the Service.

Conditions relating to use of the Service

    No individual under the age of eighteen (18) may use the Service, regardless of any consent from your parent or guardian to use the Service.

    You need a supported Web browser to access the Service. You acknowledge and agree that IGXE may cease to support a given Web browser and that your continuous use of the Service will require you to download a supported Web browser. You also acknowledge and agree that the performance of the Service is incumbent on the performance of your computer equipment and your Internet connection.

    You agree to sign on and register for the Services through your Steam account provided by the Valve Corporation. You are solely responsible for managing your account and password and for keeping your password confidential. You are also solely responsible for restricting access to your account.

    IGXE is not affiliated in any way with Valve Corporation and its affiliates.

    You agree that you are responsible for all activities that occur on your account or through the use of your password by yourself or by other persons. If you believe that a third party has access your password, use the Secure Access regeneration feature of the Service as soon as possible to obtain a new Secure Access token. In all circumstances, you agree to forbid any third party to use or access the Service.

    The Service purchases items when necessary from sellers, and re-sells to buyers as necessary. IGXE may modify these functionalities and processes at its sole discretion.

    You will only make virtual items available for sale to the Service if you are the sole owner of these virtual items. IGXE may, at its sole discretion, remove any item from the Service. By using the Service, you acknowledge and agree that the use of the Service may result in the purchase of virtual items that may be different from those that you have purchased from the Service. Such limitations are beyond IGXE's control.
    You are forbidden to engage in price-switching or price-baiting practices when using the Service, and such practices will result in an automatic termination of your account, without a right to reimbursement or retrieval of any virtual items.

    By using the Service, you agree not to: (a) impersonate or misrepresent your affiliation with any person or entity; (b) access, tamper with, or use any non-public areas of the Service or IGXE's computer systems; (c) attempt to exploit any vulnerability of the Service or any related system or network or breach any security or authentication measures used in connection with the Service and such systems and networks; (d) harm or threaten to harm other users in any way or interfere with, or attempt to interfere with, the access of any user, host or network, including without limitation, by sending a virus, overloading, flooding, spamming, or mail-bombing the Service; (e) provide payment information belonging to a third party; (f) use the Service in an abusive way contrary to its intended use, to IGXE's policies and instructions and to any applicable law; (g) systematically retrieve data or other content from the Service to create or compile, directly or indirectly, in single or multiple downloads, a collection, compilation, database, directory or the like, whether by manual methods, through the use of bots, crawlers, or spiders, or otherwise; (h) make use of the Service in a manner contrary to the terms and conditions under which third parties provide facilities and technology necessary for the operation of the Service, such as Braintree, G2A Pay, Paypal or Valve; (i) infringe third party intellectual property rights when using or accessing the Service, including but not limited to in making available virtual items by using the Service; and (j) make use of, promote, link to or provide access to materials deemed by IGXE at its sole discretion to be offensive or cause harm to IGXE's reputation, including, but not limited to, illegal content and pornographic content and content deemed offensive or injurious to IGXE and/or the Service (such as Warez sites, IRC bots and bittorent sites).

    IGXE grants you the personal, non-transferable, non-exclusive, revocable and limited right to access and use the Service for your own personal purposes as an individual consumer.

    IGXE will have the right to investigate and prosecute violations of any of the above, including without limitation possible infringement of any intellectual property rights and possible security breaches, to the fullest extent of the law. IGXE may involve and cooperate with law enforcement authorities in prosecuting users who violate this Agreement. By using the Service, you acknowledge that, although IGXE has no obligation to monitor your access to or use of the Service, it has the right to do so for the purpose of operating the Service, to ensure your compliance with this Agreement, or to comply with applicable law or the order or requirement of a court, administrative agency, or other governmental body.

    Fees and Payment
    IGXE may charge all applicable fees on deposits, withdrawals, sales, and/or purchases associated with your IGXE account. You are responsible for providing IGXE valid information for making and receiving payments. You may modify this information by making a request via the "LiveChat" functionality available at https://skin.igxe.com. You must submit a support request with your new account information if this information changes.

    IGXE accepts no liability to complete any transaction which cannot be cleared by our payment processors, whether because there are no sufficient funds available on your credit card, issues related to identity or localization or otherwise. IGXE reserves its right to verify and approve any and all transactions made by you when using the Service. You expressly acknowledge and agree that such verifications may require you to provide IGXE with additional personal information in order to verify and confirm your identity and to perform verifications aimed to deter fraud and misuse of the Service. IGXE may suspend your account and contact you so you can provide IGXE with additional information required to process payments. Such suspension shall not relieve you from your obligation to pay any fees owed to IGXE.

    Privacy

    IGXE takes the responsibility of protecting the privacy of your personal information as IGXE promised in its Privacy Policy. However, IGXE always reserves the right to disclose any information when it considers necessary to comply with any applicable laws, regulations, legal procedures or requirements of the government.

    All monies stipulated in this Agreement and in the Service are expressed in US dollars and include all applicable taxes.

    All virtual items that you make available via the Service are made available for a final, non-refundable purchase to the Service. Making or receiving payments on the Service may be delayed while IGXE validates your compliance with this Agreement. You agree not to initiate any claim and dispute procedure with third parties regarding payment and receipt of virtual items, including, but not limited to, a utilized payment processor's "Claims and Dispute" mechanism. The first instance of initiating such a claim and dispute procedure may result in a permanent suspension of their account for use of the Service. Any other instance of initiation of a claim and dispute procedure will result in automatic termination of your account(s). You will exclusively submit any disagreement, dispute, complaint or query by means of the "liveChat" functionality available at https://skin.igxe.com. All other media or sources (including email, group pages and the like) do not constitute a valid means to engage with IGXE for support. Any refunds for use of the Service shall be at IGXE's sole and exclusive discretion, and only provided on an exceptional basis.

    Termination
    You may cancel your individual account at any time by making a request via the "LiveChat" feature. IGXE also reserves the right to suspend or end the Service at any time at its discretion and without notice. For example, IGXE may suspend or terminate your use of the Service if you are not complying with the present Agreement, or use the Service in a manner that would cause IGXE legal liability, disrupt the Service or disrupt others' use of the Service.

    IGXE reserves the right to temporarily or permanently discontinue the Service at any time. IGXE will deploy commercially reasonable efforts to notify you of such discontinuation, for example, by posting updates and notices on various social media. If you breach this Agreement, IGXE will have the right to terminate this Agreement immediately, without notice, and to deactivate your account.

    Proprietary Rights
    All right, title, and interest in and to the Service are and will remain the exclusive property of the Service and third-parties providing facilities and technology for its operation. The Service is protected by copyright, trademark, and other domestic and foreign laws concerning intellectual property. Except as expressly permitted in this Agreement, you may not reproduce, modify, or create derivative works based upon, distribute, sell, transfer, publicly display, publicly perform, transmit, or otherwise use the Service.

    Disclaimer of Warranty and Limitation of Liability
    TO THE FULL EXTENT ALLOWED BY APPLICABLE LAW, IGXE MAKES NO WARRANTY OR REPRESENTATION REGARDING THE SERVICE, INCLUDING THAT THE SERVICE WILL MEET YOUR REQUIREMENTS OR WILL WORK IN COMBINATION WITH ANY HARDWARE OR SOFTWARE PROVIDED BY THIRD PARTIES, THAT THE SERVICE WILL BE UNINTERRUPTED, WITHOUT PROBLEMS OR ERROR FREE, OR THAT ALL ERRORS IN THE SERVICE WILL BE CORRECTED. IGXE PROVIDES THE SERVICE "AS IS" AND "AS AVAILABLE". YOU USE THE SERVICE AT YOUR OWN RISK, AND THE SERVICE MAY BE TERMINATED AT ANY TIME BY IGXE OR THIRD PARTIES PROVIDING FACILITIES AND TECHNOLOGY FOR ITS OPERATION. IGXE DOES NOT ENCOURAGE, CONDONE OR PROMOTE THE COMMERCIAL USE OF THE SERVICE.

    TO THE FULL EXTENT ALLOWED BY APPLICABLE LAW, IGXE'S WARRANTIES AND REMEDIES (IF ANY) EXPRESSLY SET FORTH HEREIN ARE EXCLUSIVE AND ARE IN LIEU OF ALL OTHER WARRANTIES, EXPRESS OR IMPLIED, EITHER IN FACT OR BY OPERATION OF LAW, STATUTE, CUSTOM, ORAL OR WRITTEN STATEMENTS OR OTHERWISE, INCLUDING, BUT NOT LIMITED, TO THE IMPLIED WARRANTIES OF MERCHANTABILITY, AVAILABILITY, PERFORMANCE, COMPATIBILITY, FITNESS FOR A PARTICULAR PURPOSE, SATISFACTORY QUALITY, CORRESPONDENCE WITH DESCRIPTION AND NON-INFRINGEMENT, ALL OF WHICH ARE EXPRESSLY DISCLAIMED.

    TO THE FULL EXTENT ALLOWED BY APPLICABLE LAW, IN NO EVENT SHALL IGXE AND ITS SUPPLIERS OR LICENSORS HAVE ANY LIABILITY, WHETHER BASED IN CONTRACT, DELICT OR TORT (INCLUDING NEGLIGENCE) OR STRICT LIABILITY, FOR INCIDENTAL, INDIRECT, CONSEQUENTIAL, SPECIAL, OR PUNITIVE DAMAGES OF ANY KIND, OR FOR LOSS OF REVENUE OR PROFITS, LOSS OF BUSINESS OR GOODWILL, LOSS OR CORRUPTION OF, OR UNAUTHORIZED ACCESS TO, OR DISCLOSURE OF INFORMATION OR DATA OR OTHER FINANCIAL LOSS ARISING OUT OF OR IN CONNECTION WITH THE USE, PERFORMANCE, FAILURE, OR INTERRUPTION OF THE SERVICE, WHETHER FORESEEABLE OR NOT, AND EVEN IF BITSKINS HAD BEEN ADVISED OF THE POSSIBILITY OF SUCH DAMAGES. IN THE EVENT THAT IGXE IS FOUND LIABLE TO PAY YOU ANY DAMAGES, IGXE'S TOTAL CUMULATIVE LIABILITY TO YOU UNDER THIS AGREEMENT SHALL NOT EXCEEED $100. THE ABOVE LIMITATIONS OF LIABILITY WILL NOT BE AFFECTED IF ANY REMEDY PROVIDED HEREIN SHALL FAIL ITS ESSENTIAL PURPOSE.

    Indemnification
    By using the Service, you agree to defend, indemnify, and hold harmless IGXE, its officers, directors, affiliates, employees and agents, from and against any claims, liabilities, damages, losses, and expenses, including, without limitation, reasonable legal and accounting fees, arising out of or in any way connected with your access to or use of the Service.

    Amendments
    IGXE may amend this Agreement or any section of this Agreement, in whole or in part, at any time. Each such amendment (i) will be communicated to you at least 30 days before its coming into force; (ii) set out the new section only, or an amended section along with the section as it read formerly; (iii) set out the date the amendment comes into force; and (iv) if the amendment entails an increase in your obligations or a reduction in IGXE's obligations, give you the right to refuse any amendment and terminate this Agreement without cost, penalty or cancellation indemnity by sending IGXE a notice to that effect no later than 30 days after the amendment comes into force. In order to send such a notice, click on the "I Do Not Agree" when the amendment is communicated to you. Refusing an amendment entails the termination of this Agreement, the automatic deactivation of your account and denial of access to the Service.

    General Provisions
    This Agreement shall be governed by and construed by the laws of Hong Kong SAR and to be performed in Hong Kong SAR. Dispute arises out of the execution of this Agreement shall be submitted to the jurisdiction of the Courts of Hong Kong SAR. This Agreement is the entire and exclusive agreement between IGXE and you regarding the Service, and this Agreement supersedes and replaces any prior agreements between IGXE and you regarding the Service. If a particular provision of this Agreement is held to be invalid by a court of competent jurisdiction, the provision shall be deemed severed from this Agreement and shall not affect the validity of this Agreement as a whole.

    You shall not assign or otherwise transfer this Agreement or any of its rights or obligations hereunder to any third party without the prior written consent of IGXE which consent is within IGXE's sole discretion. No assignment or delegation by you shall relieve or release you from any of its obligations under this Agreement. Subject to the foregoing, this Agreement shall be binding upon, inure to the benefit of, and be enforceable by each of the Parties and their respective successors and assigns. IGXE shall be allowed to assign this Agreement to any third party without requiring your consent.

    Nothing in this Agreement shall constitute a partnership or joint venture between you and IGXE.


    Additional Terms and Conditions; EULAs
    When you use G2A Pay services provided by G2A.COM Limited (hereinafter referred to as the "G2A Pay services provider") to make a purchase on our website, responsibility over your purchase will first be transferred to G2A.COM Limited before it is delivered to you. G2A Pay services provider assumes primary responsibility, with our assistance, for payment and payment related customer support. The terms between G2A Pay services provider and customers who utilize services of G2A Pay are governed by separate agreements and are not subject to the Terms on this website.

    With respect to customers making purchases through G2A Pay services provider checkout, (i) the Privacy Policy of G2A Pay services provider shall apply to all payments and should be reviewed before making any purchase, and (ii) the G2A Pay services provider Refund Policy shall apply to all payments unless notice is expressly provided by the relevant supplier to buyers in advance. In addition the purchase of certain products may also require shoppers to agree to one or more End-User License Agreements (or "EULAs") that may include additional terms set by the product supplier rather than by Us or G2A Pay services provider. You will be bound by any EULA that you agree to.

    We and/or entities that sell products on our website by using G2A Pay services are primarily responsible for warranty, maintenance, technical or product support services for those Products. We and/or entities that sell products on our website are primarily responsible to users for any liabilities related to fulfillment of orders, and EULAs entered into by the End-User Customer. G2A Pay services provider is primarily responsible for facilitating your payment.

    You are responsible for any fees, taxes or other costs associated with the purchase and delivery of your items resulting from charges imposed by your relationship with payment services providers or the duties and taxes imposed by your local customs officials or other regulatory body.

    Questions related to payments made through G2A Pay services provider payment should be addressed to support@g2a.com.

    Where possible, we will work with you and/or any user selling on the Service, to resolve any disputes arising from your purchase.


Disclaimer

	IGXE does not undertake any error or non interruption of the site or any content, service or functionality of this website, without any flaws in the commitment to be corrected, or your use of this site will produce specific results. This site and its content is based on the "status quo" and "available" to provide. All information provided on this website may be changed without notice. IGXE can't make sure that any information or other data you downloaded from this site is free from viruses, pollution, or destruction. IGXE does not make any express or implied warranties, including any warranties of correctness, non infringement, suitability and applicability. IGXE shall not be liable for any and all of the third party's acts and acts that are related to your use of this website and / or any IGXE services. Your use of this site and any link to the site, you assume full responsibility. If you are not satisfied with this site or any content, your sole remedy is to stop using this site or any of the content. The relief restrictions are part of the agreement.
The above disclaimer for due to any nonperformance, errors, omissions, interruption, deletion, defects, delay in operation or transmission, computer virus, communication line failure, theft or destruction or unauthorized access, alteration or use (whether it is breach of contract, tort, negligence or any other procedure for any damage caused, responsibility, or hurt.
Igxe reservations at any time not by notice to the rights of any of the following acts: (1) based on any reason, modification, suspension or termination of operation or access this website or any part thereof; (2) to modify or change this website or any part thereof and any applicable policies or provision; and (3) in regular or non regular maintenance, error correction or other changes necessary, interrupt operation of this website or any part thereof.